Nanjing Jiusi High Tech Co., Ltd. won the second prize of national science and Technology Progress Award in 2019
On January 10, 2020, the CPC Central Committee and the State Council solemnly held the 2019 National Science and technology award conference in the Great Hall of the people. Xi Jinping, Li Keqiang, Wang Huning, Han Zheng and other party and state leaders attended the conference and awarded prizes to the winning delegates. Xi Jinping presented the prize to the highest prize winner.
Nanjing Jiusi High Tech Co., Ltd.'s "membrane preparation, integration technology and application for zero discharge of pulping wastewater" won the "second prize of national science and Technology Progress Award" in 2019.
In view of the demand of industrial wastewater emission reduction, the research idea of "pulping wastewater can be exhausted by chemical production method" is proposed. A new process of zero discharge of membrane pulping wastewater, which combines efficient pretreatment, multi membrane integration technology and efficient evaporation crystallization, is invented. The preparation method of super hydrophilic special ultrafiltration membrane and the collaborative control technology of water softening and membrane pollution are developed It has become a large-scale production line of special ultrafiltration membrane, implemented the world's first set of zero discharge project of membrane pulping wastewater with a capacity of 40000 tons / day, which has solved the international problem of zero discharge treatment of pulping wastewater, turned industrial wastewater into purified water for resource utilization, and was selected into the national "12th Five Year Plan" scientific and Technological Innovation Exhibition, and became a model for solving social development problems with science and technology.
The relevant achievements have been popularized and applied in pulping and papermaking, fine chemical industry, salt chemical industry, pharmaceutical industry and other waste water resources. The cumulative emission reduction of wastewater is 130 million tons, and COD is more than 7000 tons. The environmental benefits are very significant; remarkable economic and social benefits are generated, and important contributions are made to the high-quality development of economy and society.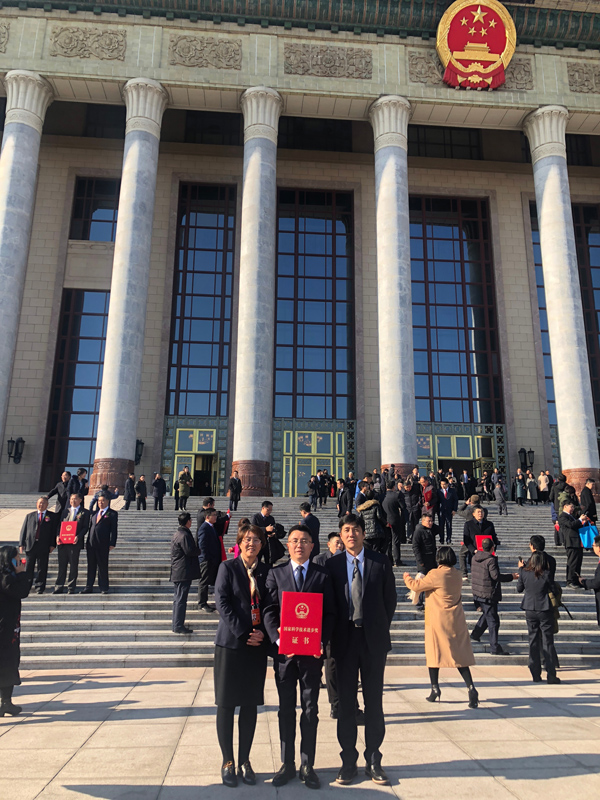 Ding Xiaobin, general manager of Jiusi High Tech Co., Ltd., participated in the award meeting
Nanjing Jiusi High Tech Co., Ltd. is a high-tech enterprise specializing in the research, production and marketing of high-performance membrane materials. Relying on the membrane science and Technology Research Institute of Nanjing University of technology, Nanjing Jiusi High Tech Co., Ltd. adheres to the enterprise independent innovation as the leading factor and carries out scientific research and innovation work continuously.
At present, the company has established a number of R & D platforms, such as Jiangsu enterprise technology center and Jiangsu enterprise academician workstation. At the same time, the company is also the research achievement transformation base of national special separation membrane engineering technology research center and State Key Laboratory of material chemical engineering. It has successively won the second prize of national science and technology progress award, the second prize of science and technology progress award of national energy administration, and the national excellent patent award. It has become the vice president unit of China Membrane Industry Association and the technology innovation strategy of national special separation membrane industry The external responsibility subject unit of the alliance.
Relying on its own scientific research strength, the company has established an industrial technology innovation system with market demand as the guidance and enterprises as the main body. It has successfully industrialized and transformed a number of technical products, including enhanced PVDF hollow fiber ultrafiltration membrane, pervaporation dehydration membrane, preferential organic matter membrane, wine membrane, etc., and has been widely applied and promoted. Through the achievement transformation, the company has successively incubated Jiangsu JiuWu High Tech Co., Ltd., Jiangsu Jiutian Hi Tech Co., Ltd., and technical service units such as Nanjing membrane material industry technology research institute (Membrane Technology Industrial Park), Nanjing University of technology membrane Engineering Design Institute Co., Ltd.
At present, the company is vigorously promoting the popularization and application of technologies such as oil and gas (VOCs) recovery and treatment technology, secondary liquor membrane technology for quality improvement, alcohol free low alcohol / high alcohol wine preparation technology, and liquor soilless filtration technology. It has established a number of demonstration projects in well-known chemical, pharmaceutical and petrochemical wine enterprises, and achieved good environmental, economic and social benefits. The company will further play its own technical advantages, promote the further improvement of membrane technology in China, and create an international brand of membrane products.